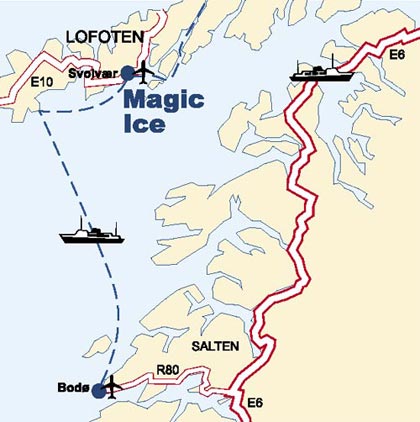 Magic Ice is situated on the quayside in Svolvær, Lofoten Islands, Norway.
Flights to Svolvær Airport
5 mins. from there by car or bus.
Coastal Steamer from Bode
The 6 hour crossing bringing you almost right to our doorstep.
Express passenger boat
Express passenger boat link Bodø to/from Helgeland and Vesterålen.
Magic Ice is open all year round.
June 15 – August 25: from 12.00 to 22.30
August 26 – June 14: from 18.00 to 22.00
Admission Prices
Drop-in: 165 :-/ person
Children between 4-17 years: 95:-/ person
Under 4 free.
INCLUDED:
All warm clothing to cover you from head to ankle, included gloves
a FREE shot of our signature drink served in an ice glass
Pictures are allowed!
It is worthwhile holding on to your ice glass after your first drink, as then a refill Frost costs only 70,- kronor
Our professionally and intricately sculpted gallery is a fun and educational tour for all ages, with a refreshing and breathe-taking experience that "WOW's" children and adults alike. It is one of the LARGEST in the world and definitely the ONLY ice bar and gallery in northern part of Norway. This unique excursion offers you a memorable experience like no other.
Groups
Reduced rates are offered for groups of 20 persons or more.
Groups must be pre-booked at post@magic-ice.no
Travel Agents
Contact us at post@magic-ice.no for booking and prices.